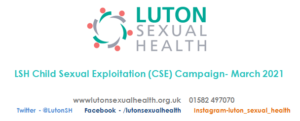 Raising Awareness of CSE 
Child Sexual Exploitation (CSE) is a type of sexual abuse
CSE is about a person/group having power and control over another person in order to sexually abuse them
Peer on Peer and online exploitation are becoming increasingly more common models of CSE.
Peer on Peer exploitation can include young people of the same age exploiting each other
Online exploitation often involves making you feel uncomfortable by talking about sexual things and asking for inappropriate pictures or videos
March 18th marks National CSE Awareness Day to ensure young people, parents and professionals are aware of CSE, know how to spot the signs of CSE and how to access relevant support services
Impact of CSE 
Can affect any child or young person (male or female) under the age of 18 years
Can affect any vulnerable adult over the age of 18 years
Can still be exploitation even if the activity appears consensual
Can involve force and/or enticement-based methods of compliance and is often accompanied by violence or threats of violence
Can be perpetrated by individuals or groups, males or females, and young people or adults
Is typified by some form of power imbalance in favour of those perpetrating the exploitation
Theme – Think 
We developed a series of Social media polls to get users to think about the myths surrounding CSE –
Only women experience CSE? – False – Although the majority of cases of CSE are experienced by females, males are also affected by CSE. Low reporting of male CSE by those who have experienced it or by professionals, accounts for the lower numbers shown in data collection and therefore highlights CSE as a predominantly female only problem. Spot the signs in young men too.
Only men can be perpetrators of CSE? – False – Historically the model of exploitation has involved an older male or some male involvement in exploiting young people. With advances in technology and social media, anyone regardless of gender can be a perpetrator of CSE. There are a number of high profile cases highlighting Women as the main perpetrator in the sexual abuse of children and young people.
CSE can affect 16 and 17 year olds even though they legally consent to have sex? – True – Although 16 and 17 year olds are able to consent to sex, by law, they are still identified as a child until they are 18 years old. Exploitation can still occur to older young people, not just to children or young people in their early teens. Look out for the signs of exploitation for all children and young people under 18.
A child can be a victim and a perpetrator of CSE at the same time? – True – It is common that if a young person is experiencing CSE, they may be pressured by the perpetrator to "recruit" other young people. The perpetrator may provide this young person with money, drugs and alcohol as a means to form friendships with other vulnerable young people and "hook" them into the CSE cycle with the intention to sexually abuse them. The BBC drama Three Girls explores this process and other issues relating to CSE.
Theme – SPOT 
Anybody can be a perpetrator of CSE, no matter their age, gender or race
When a child or young person is exploited they can be given things like gifts, drugs, money, status and affection to entice and then manipulate them
The behaviours of someone experiencing CSE can include increasing secretiveness concerning use of internet and social media; acquisition of money, clothes and mobile phones; self-harm or changes in emotional wellbeing; STI's/pregnancy
Spotting these behavioural changes in young men is also important and can be an indicator that they are at risk or experiencing CSE.
Young men can be groomed in different ways to young women; through sport, online gaming, recruitment into gangs, experimentation of sexuality/gender and those who have an identified learning disability/difficulty
On average, 33% of males accessing support services have experienced CSE
Video – My new friend – youtube.com/watch?v=f6uHrArdJKc
Video – Taylors Story – https://www.youtube.com/watch?v=oqofFfXU2kI
Video – parents – spotting the signs of CSE – https://www.youtube.com/watch?v=Os26kI3xRtE
Speak Out 
You are not alone – CSE is a local and national issue
Being involved in CSE is NOT your fault; you have been manipulated, pressured and coerced by another individual
If you are experiencing CSE, speak to someone you trust – a friend, a sibling, parent/carer, teacher or other professional you have a positive relationship with
The perpetrator has broken the law
Information, Advice and support services 
LSH Safetalk available for young people on 07976 406 909/912 to discuss CSE
Stopcse.org #say something
FACES – Faiths against Child Sexual Exploitation